WARNING: this release totally breaks the configuration compatibility.
EDIT 21 April: The macro fonctionnality is broken 🙁
New configuration examples are installed to the /etc/emuclient folder:
CallOfDuty:BlackOps.xml (updated)
CallOfDuty:BlackOpsG500+G5.xml (configuration for 2 controllers)
Following items in the edit menu of Sixemuconf will let you convert your old configuration quickly:
Replace mouse: detect and replace mouse name&id in the current controller
Replace keyboard: detect and replace keyboard name&id in the current controller
Due to the correction of issue 60, you also will have to change ALL your mouse multipliers depending on your mouse frequency:
125Hz : divide by 1.25
250Hz : divide by 2.5
500Hz : divide by 5
If you don't know what frequency your mouse is running at, just try each value (or ask google for your mouse max frequency, and limit it to a maximum of 500Hz). High-end mice like the Logitech G5 or G500 are running at 500Hz (default frequency).
I know, this incompatibility sucks, but the new features in this version are worth the price. This probably won't happen another time.
To prevent beginners to use this version until I'm sure its quality is good, I will not change the version in the tutorial, and the previous version will remain "featured" in the googlecode download page. About 500 people downloaded the previous version 🙂 I'm waiting everyone's feedback! I'm just joking, but I really appreciate a few words and I accept both positive and negative feedbacks.
Main improvements:
multiple mice & keyboard (new configuration examples in /etc/emuclient)
synchronization improved
mouse translation improved
up to 8 configurations per controller
new mouse calibration mode
All corrected issues:
Download links:

New items in the edit menu of Sixemuconf: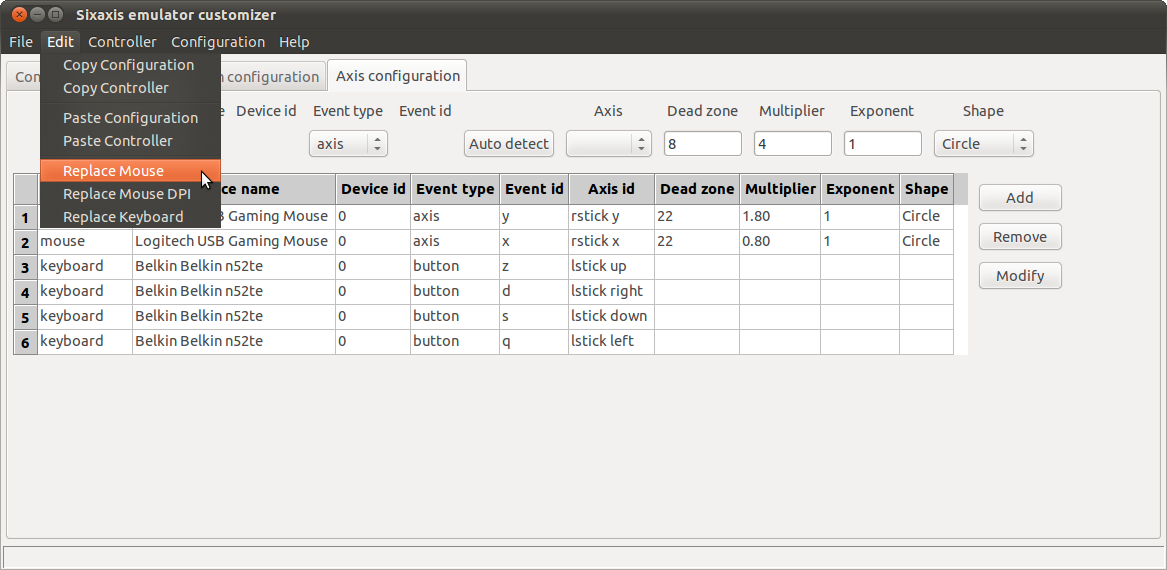 The "Replace Mouse DPI" item lets you adjust your multipliers according to your old and new mouse dpi values (the higher the better). I recently bought a Logitech G500 (which is excellent by the way), and I run it at its max dpi (5700). My previous mouse is a Logitech G5 (max 2000 dpi). This means I had to multiply my multipliers by: 2000/5700.
New calibration mode, displayed in Sixstatus: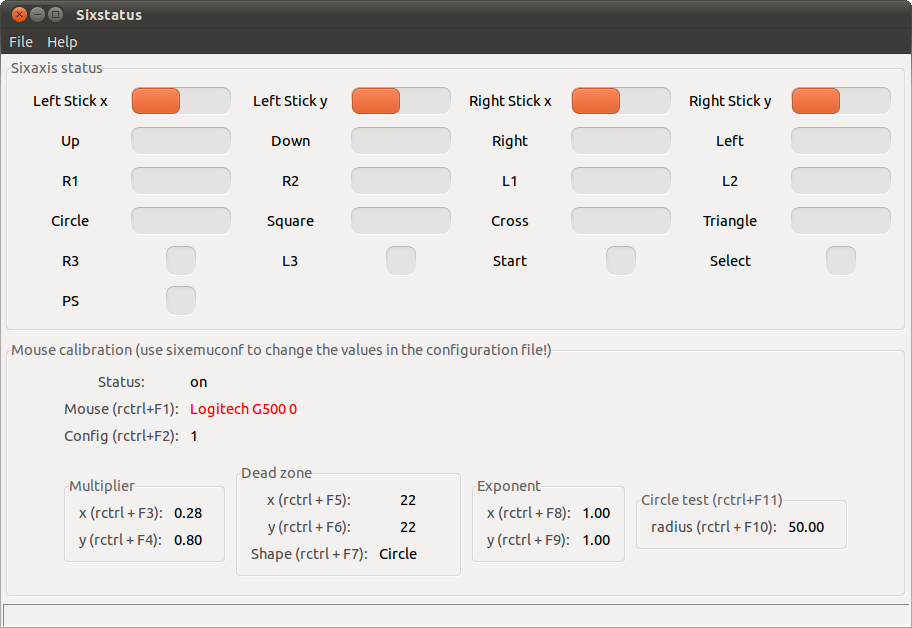 This calibration mode lets you calibrate each mouse independently. It reads values from the loaded configuration, but it still doesn't save them (use Sixemuconf to apply changes to the configuration file). To change values, use rctrl+FX key combinations and use the mouse wheel.
Enjoy!!