Warning: I need to work again on these measures. I took some more measures for the wireless sixaxis. These measures are not consistent with my earlier values :s For these new measures, the average game response time with the wireless sixaxis is about 150ms. All values in this post have to be confirmed. EDIT: See my next post.
No suspense: it's not good.
I measured the average delay between a gunshot action and its corresponding gunshot sound (in BF:BC2).
Real wireless sixaxis: 125ms
Real wired sixaxis: 139ms
Note that this isn't the controller latency. This is the overall latency for a gunshot.
The difference between two values gives the controller latency difference.
The sixaxis emulator adds a 43ms latency. That's more than 1 or 2 frames (40ms@25fps, 33ms@30fps, 17ms@60fps). Not good at all.
I should take some measures with a FPS on PC.
125ms seems to be very high for a descent game controller.
The wired sixaxis gives more latency than the wireless one… not as expected.
Methodology:
– plug a microphone on the PC
– start audacity
– start a FPS on the PS3
– put the microphone on the device to test (sixaxis or mouse)
– adjust the volume of the game so that gunshot actions/sounds are recorded
– start recording in audacity
– repeat the gunshot action (empty the cartridge of a pistol) with ~2s delays
– stop recording
– get measures between gunshot actions/sounds and compute the average
I don't know how precise it is to measure the game latency, but it's at least good enough to compute a latency difference.
Following images are screen-shot examples of the audio wave: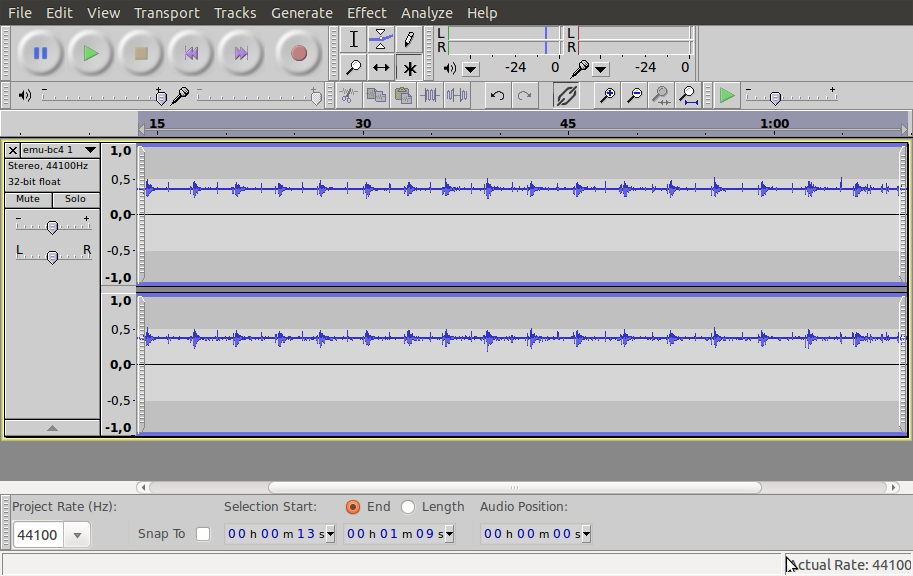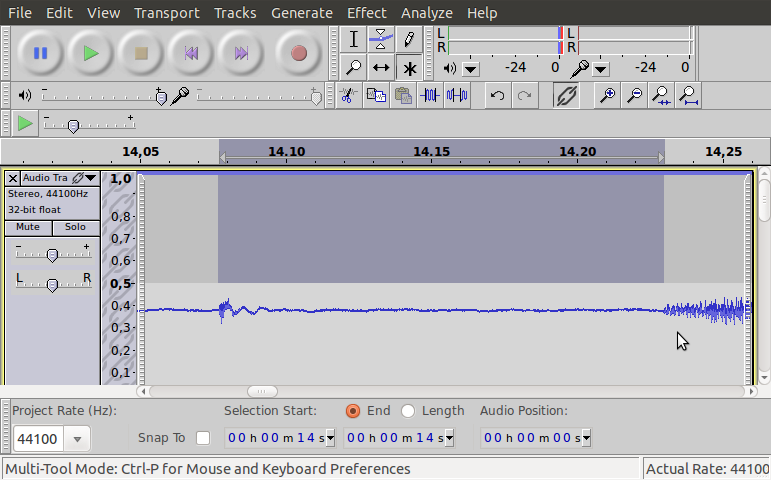 As you can see in the second screen-shot, there are two events: the gunshot action (mouse clic) and the gunshot sound. It shows a capture recorded with the sixaxis emulator. The delay was about 150ms for this gunshot.
EDIT:
I took measures for Counter Strike Source in Win7. I get a 188ms average response time for a gunshot.
Although all the measured values seem very high, it seems the real sixaxis and the sixaxis emulator are not that bad… compared to CSS results.